Greetings to you and your family. Hope that everyone is well and safe. Are you expecting a baby soon? Congratulations! May God bless your family with a smooth delivery and good health to both mummy and baby. As stated by the Ministry of Social and Family Development in their website:
To support couples in their decision to have more children, the Baby Bonus Scheme helps to lighten the financial costs of raising children. The Scheme is part of the Marriage and Parenthood Package and includes a Cash Gift and Child Development Account (CDA) benefits.
We've arranged this FAQ for you to get the information you need fast! #TLDR
*Disclaimer: The following information is correct as at October 2021.
1. When can I expect to receive the first payment? To whose account will it be credited?
Within 7 to 10 working days of your child's birth registration, or after completing the online form, whichever is later. Some parents have said to receive it as early as on the 4th day. Parents must decide between them who will be the Bank Account Holder to receive the cash gift. 
2. How much can you expect to receive?
Parents will receive the Cash Gift in 5 instalments, over 18 months.
Time
Amount of cash gift disbursed
First and Second Birth Orders
Third and Subsequent Birth Orders
Within 7 to 10 working days from birth registration or joining the scheme, whichever is later
$3,000
$4,000
When the child turns 6 months old
$1,500
$2,000
When the child turns 12 months old
$1,500
$2,000
When the child turns 15 months old
$1,000
$1,000
When the child turns 18 months old
$1,000
$1,000
Total
$8,000
$10,000
3. Must I apply for the Baby Bonus?
You can submit the online form for your child to join the Scheme as early as 2 months before their estimated delivery date. Please click here for the form. 
Alternatively, after delivery, the nurse will advise you to do the birth registration of your child.
4. How many bank accounts will be opened for my child?
Three.
Child Development Account
Joint Savings Account with Parent
Personal Savings Account (not listed in iBanking)
Previously, it used to be just two. Do contact your bank for more information.
5. Is CDA First Step Grant and Cash Gift the same thing?
No. Baby Bonus comes in 2 forms.
Funds credited in CDA account can only be used to pay for educational and healthcare expenses of all your children at  Baby Bonus Approved Institutions.
Funds credited into the provided Bank Account Holder as cash gift can be used as you wish.
6. What is Baby Support Grant and do I qualify for that too?
As stated in this website https://www.madeforfamilies.gov.sg/raising-families/baby-support-grant
The Government has received feedback that COVID-19 has caused some aspiring parents to postpone their parenthood plans. To help reassure couples to proceed with their parenthood plans, the Government will provide a one-off Baby Support Grant (BSG) of $3,000, for children born from 1 Oct 2020 to 30 Sep 2022. 
7. Where can I get more information on CDA such as CDA First Step Grant,  dollar-for-dollar Government co-matching, what can be paid using CDA or more?
https://www.babybonus.msf.gov.sg/
Get Your Discount Coupon Today!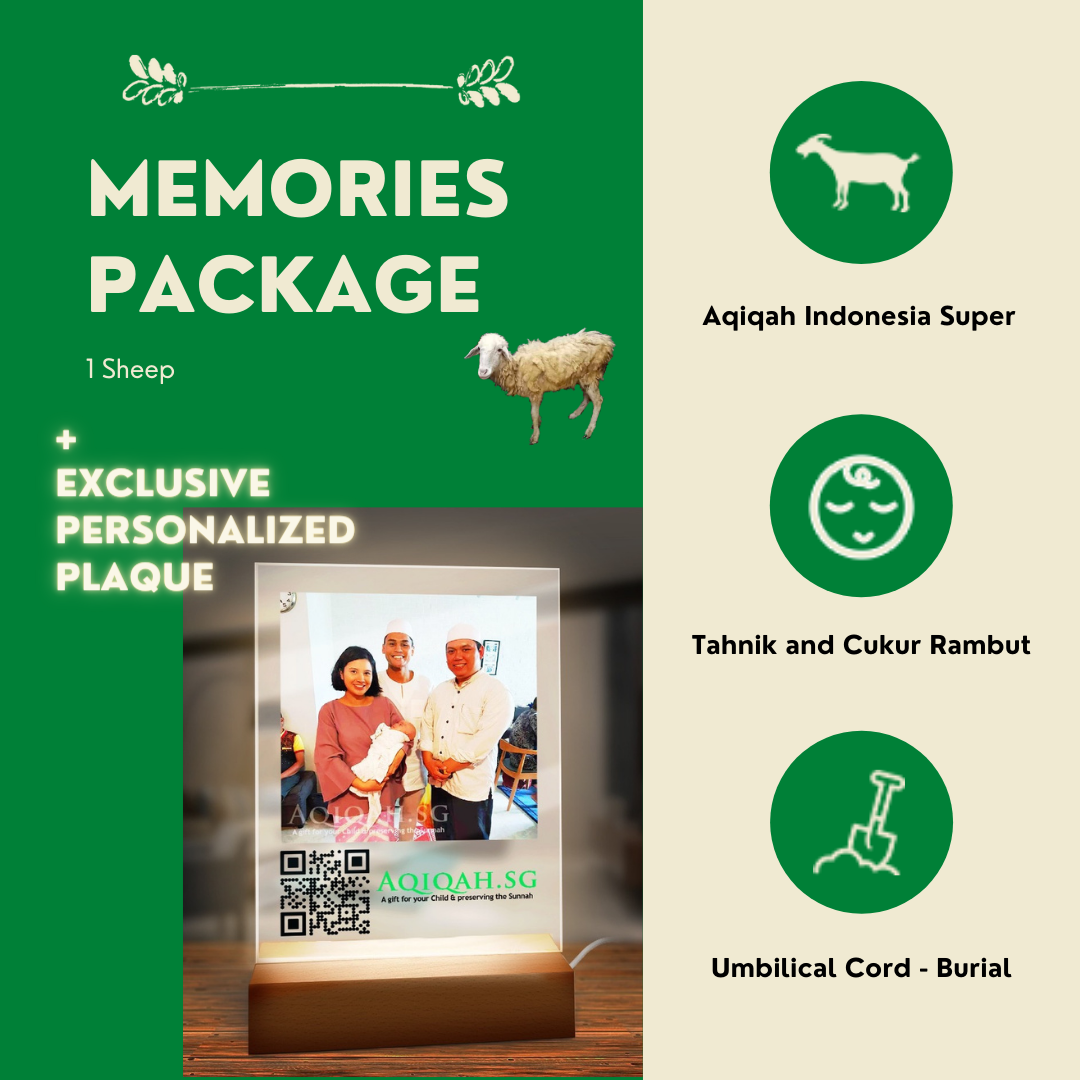 Do you wish to use your Baby Bonus for our bundle packages but it has not been credited into your account yet? No worries, before delivery, simply purchase our Umbilical Cord and Placenta – Collection and Burial service and after checkout you will be prompted to generate a unique Coupon Code.
Once you're ready to purchase the Aqiqah and Tahnik & Cukur Rambut services, simply enter the Coupon Code during checkout and you are still entitled for the Bundle Packages discount!